the M66 – The Bristle Replacement Mixture – a filament renaissance for traditional and modern paints

 Natural Bristle – Scarcity, unsuitability, and ever increasing prices.
Changes in breeding practices over many years have resulted in less and less natural raw material being available – especially in middle/long sizes. Prices have increased by more than 50% in under a year. A shortage of skilled workers has meant increased production costs. The growth in water-based paints and the goal to eliminate the VOCs in solvents across the EU and the USA has increased the stiffness of paints which then require stiffer filaments.
Considering the above market situation, The Pioneer Brush Company, in partnership with Anglo China Sourcing, is introducing the M65/M66: the bristle replacement mixture – a filament renaissance for traditional and modern paints
Pioneer Brush Co Ltd. is a specialist manufacturer of handcrafted professional grade paintbrushes.They are highly experienced in the brush trade, product research and development, having specialists in MPP and HPP production.Their production raises up to 18 million units per annum, supplying over 20 countries. They have their own UK distribution, being BSCI approved and FSC chain of custody certified.
Expertise in Brush Filaments
In developing the bristle replacement mixture we were guided by our expertise in brush filaments, such as:
Polyester filament extrusion
Chemical tapering process
Dyeing
Triple boiling and redressing (natural bristle)
Canting and mixing

Filament properties
The filaments of our bristle replacement mixture have the following unique properties:
Produced with a natural wave that looks like bristle
Formulated to produce excellent paint pick up
Excellent paint release
Flaggable tips to give a smooth finish
Dyed tips to increase paint pick up and to give natural bristle appearance
Same specific weight as a natural bristle (30% lower than SRT)
Easy to clean
Significant cost saving
Paint pick-up by filament profile/type
Usually, the paint pick-up of any type of bristle, depends on the filament profile. As shown in the graphic below, the M66 bristle replacement mixture has the closest paint pick-up to a natural bristle, making it a successful solution in the current-day market situation.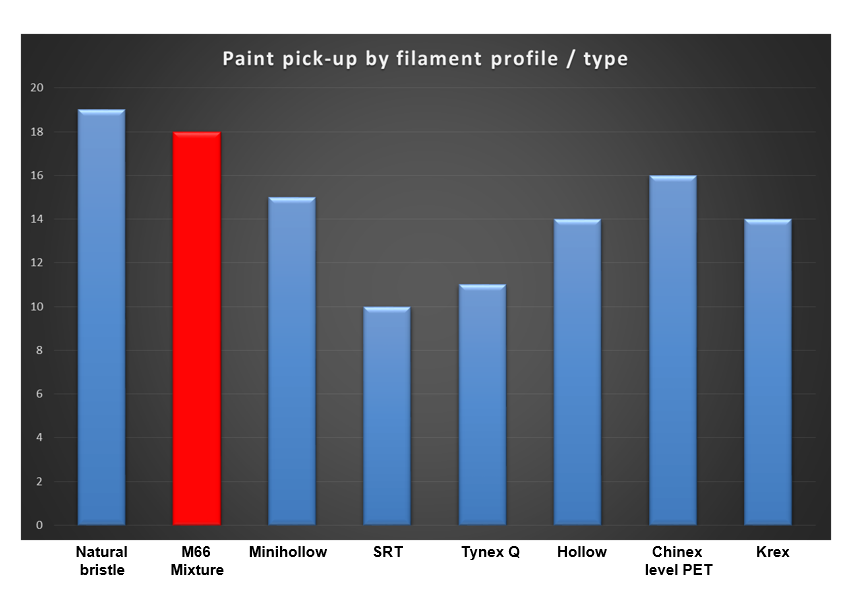 Filament profiles used in the Pioneer mixture
In our Pioneer mixture, we are using a variety selection of tapered filament profiles, for you to choose which suits your needs:
solid round tapered – for strength
mini hollow – for flaggability and smooth finish
crimped – for slow release
X cross – for paint pick-up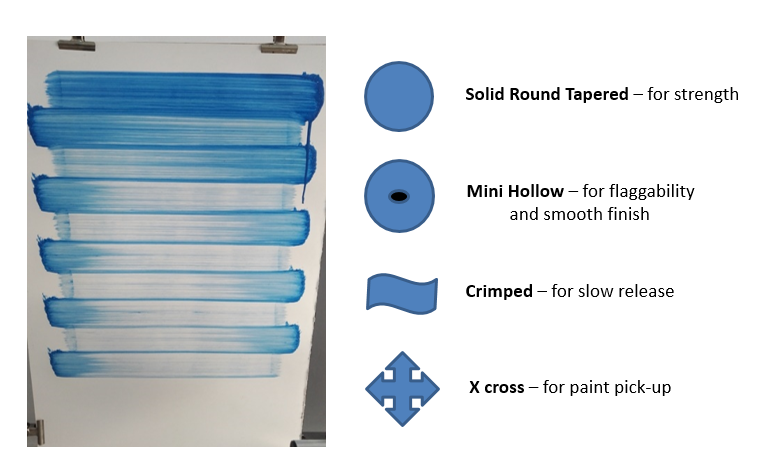 Interested in our M66 bristle imitation solution?
The M66 is now available either through direct shipment from China or through our European distributor – Anglo China Sourcing Ltd. Feel free to contact us for more info!
Have you already tried our M66 bristle? Leave a comment bellow and tell us what you think, or help us spread the word by sharing it on social media. Thank you.